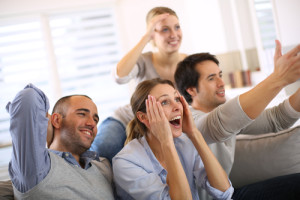 As strange as it may seem to football fans, a majority of homeowners do not arrange their schedule around the Super Bowl. There are a few differing points of view on when it's  the best time for homeowners to put their home on the market for sale in Orange County and, specifically, in Irvine, California.
While some feel that the Super Bowl typically signals the end of the Holiday season and the New Year's slump, we believe that the beginning of January through the 1st Quarter of 2015 is the optimal time to maximize the sales price of your home or condo.
One reason for doing so is the lack of housing inventory for sale. Therefore, there is less available competition of homes or condos in Irvine at this time of year. (Please see our blog post on the Irvine Market Trends for the first quarter of 2015 for a full discussion and prediction for the start of the New Year.)
Here are some reasons why you may want to consider selling now rather than waiting:

Irvine, California and the surrounding communities are in high demand due to some of the lowest mortgage rates in history,  the temperate Irvine climate, the Irvine economic business opportunities (Irvine is fast becoming a smaller "Silicon Valley"–a go-to place for IT entrepreneurs; the Irvine's "safest city" record, the national and international reputation of the award-winning Irvine Unified School District and nationally recognized Universities including but not limited to the University of California at Irvine with top-rated medical, law, engineering schools as well individually recognized departmental fields of study.
Let's face it. Unless your home happens to be near the Super Bowl venue, then maybe some investors may snap it up to rent to Super Bowl attendees.
Again, not everyone cares about the Super Bowl. We have found that Super Bowl Sunday, brings out many people who couldn't care less about football, but rather, what home buyers care about most is finding the right home in the right place for the right price.
With over 25+ years of consulting and assisting home sellers and buyers in the Irvine area, we are on top of what the most important factors are in deciding when is the best time for Sellers and Buyers to take that all important step.
The housing market here in the Irvine area and surrounding communities is in a robust phase. New home builders are stepping up their time frame for releasing their inventory. There are international buyers who stand ready to invest at least $500,000 or more because, in doing so, they are granted a visa and it is a safe haven for their investments and comforts for their families that may not exist in their homeland.
In addition, home buyers are considering a buy because of:
1. the rising cost of renting;
2. a job relocation to Irvine or the surrounding communities;
3. newlyweds seeking their first home together;
4. an expanding family situation;
5. looking for top-scoring Irvine schools;
6. a far better lifestyle;
7. lower mortgage rates, and so on.
If you are considering selling your home in January, you may want to consider the following:
Make sure your home or condo has the best possible curb appeal, i.e.the walks and entryways are swept clean and seasonal flowers are potted or planted. Take the time to clear off the patio too. You may not use it much during the winter months, but your buyer needs to know it is there for the spring and summer.
Keep your home warm and cozy. Now is not the time to worry about heat costs. If buyers are cold and uncomfortable, they will not stay long enough to experience your home's special features.
If you have a gas fireplace, light it. Consider placing a grouping of candles in a wood fireplace and lighting them during your open house or showing. (NOTE: some buyers may be allergic to smoke from wood-burning fires, so consider not lighting a wood fire unless it is integral to heating your home).
Since daylight is at a premium in winter, try to have your house shown during daylight hours. Make sure your windows are clear and free of grime and that window treatments are clean and dust-free. If you must show your house after dark, turn on every light in the house and yard so that your home is warm and inviting.
If you have any questions, or are unclear or don't know how to proceed, please call or text us at 949.334.7373. The Robin Fenchel Team are always available by phone, text or e-mail. We are here to consult and/or assist you in optimizing your home for a winter sale.
Compliments of Robin Fenchel